In the financial services industry, Agile teams knowingly admit to not actually being able to work within the boundaries and to the principles of the agile manifesto, sometimes describing it as "agile light" or "agile-fall". These tongue in cheek comments are an observation on the fact that in heavily regulated, risk-managed and bureaucratic environments, you might say that you work to the agile manifesto, but the reality is somewhat different.
What this means is that a lot of banks, pension providers, insurers and wealth management firms actually work to a hybrid model, where cross-functional agile teams exist in the digital department (or the mobile team) but their investment cycles, product development and strategic planning alongside their route to production would definitely be described as waterfall. 
This is in part a reflection on how difficult it can be to shift the established business structures, processes, systems and frameworks, and in part a reflection on the traditional view of IT as a cost centre, with no strategic seat at the leadership table to leverage the benefits of technology.
But, we know (and have seen first hand) how Agile can have a massive business impact in financial services, with some banks and financial services institutions reporting up to 50% decrease in time to market for new product features and product development costs being reduced in some instances by up to 40%.
So the business case is there, how can financial services organisations adopt Agile in the right way? Or can the existing hybrid models work long term?
How to do Agile – The right way
The biggest driver is and will always be, your people.
Whilst team members must master the Agile approach, managers must also understand their role as facilitators and senior leadership need to adjust to an iterative environment, where failing fast and learning will be the new multi-streamed business strategy that needs room to breathe to deliver results.
Organising your people in cross-functional teams that map to outcomes can break down silos and empower collaboration that drives projects and programmes of work further, quicker…and deliver better results. By merging product, design, development, testing and DevOps with marketing, IT, operations, risk and cybersecurity, you can see where processes central to the organisation are adding value and where they are impeding value creation.
As with any challenge in a large organisation, Agile is a cultural challenge. Addressing the motivations and behaviours of individuals and teams needs to be jointly adopted from the top-down and the bottom up. Any dissension in the ranks leaves holes for outdated processes, ways of working and sign-offs to creep back in.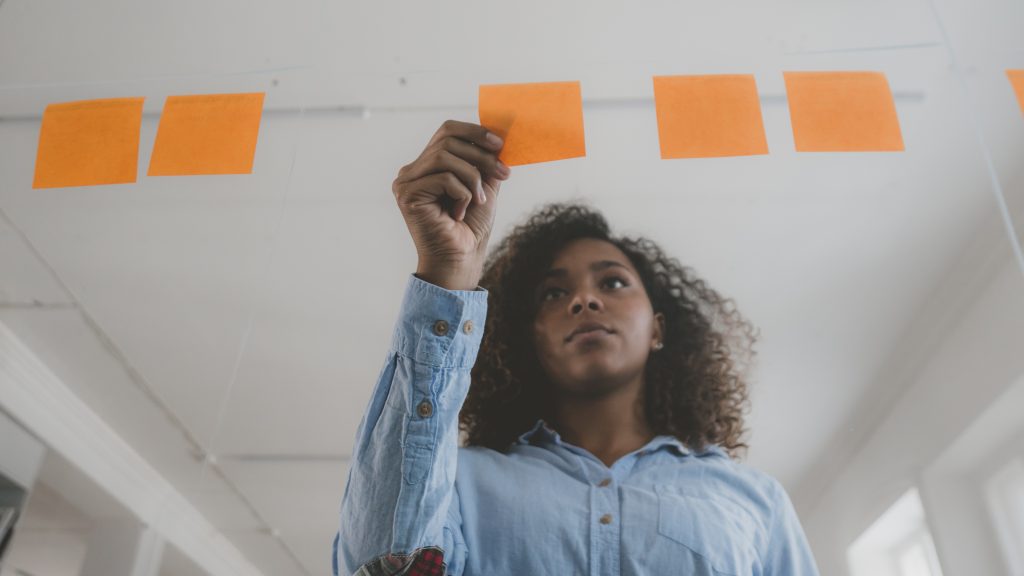 Can a Hybrid model work?
The short answer is that in some financial services organisations, it has to. There isn't the momentum to drive wide-scale change across the whole organisation, so a compromise has to be made.
In this model (often call Scrum-Fall), what you tend to see is the design research, the business analysis, the ideation and concept are done in waterfall, which delivers a full brief of requirements and specifications that hand-off to a 'Scrum' for design, development and testing, which then hands-off to integration testing, governance, acceptance of product, deployment and production.
This model essentially adopts Agile methodologies in the build phase only.
The beauty of starting out like this is that you can prove the validity of working in this way and incrementally scale Agile within a large organisation over time. This does require extensive training and coaching by experts, alongside a change to the physical working environments, the toolkits which are used to collaborate and upskilling in the soft skills, which help productive teams put their existing mental models to one side and embrace change.
How can Waracle help?
Many clients come to us to discuss their lack of velocity, the perceived shortcomings of their Agile teams and the state of play with their burndown charts. The cultural change that aligns with the above metrics and artefacts mean that leaders feel their Agile teams need fresh impetus, renewed vigour and re-energising.
Waracle delivers high-performing software development teams into our visionary enterprise clients businesses, so we know a thing or two about being agile.
That's why we offer Agile Coaching Services to our clients to reinvigorate Agile teams and/or help them disseminate what Agile means for their business, if they are just starting out on their digital transformation. Our consultants regularly deliver in large organisations, in agencies and in cross-organisational teams, so are perfectly placed to help financial services companies adapt.
If you'd like to find out more about what we can do for your business, get in touch today.