In 2020, we saw an explosion of innovation across the digital health landscape. As we say a fond farewell to an extremely tough first quarter 2021, we reflect on the potential innovation that is still to come.
Listen to this fact… Just 10 healthcare companies in series C-E funding rounds secured an astonishing $2.6 billion between January & March! Let that sink in for a moment.
Digital health and healthcare innovation is a really hot ticket for capital flows at this precise moment. From musculoskeletal to behavioural therapy, telehealth to software-as-a-medical-device (SaMD), the diverse range of delivery modes and conditions being supported are unified by one common factor… Our smartphones and wearables are where we (the patient) will interface with them.
Let's find out more about why our mobile devices will transform healthcare standards for all of us in the years to come, as investment supercharges innovation in the sector.
Scale of growth equals ubiquity
The biggest reason that our smartphones are the primary channel for new and innovative care delivery methodologies is there are just so many available touchpoints.
In July 2020, it was estimated that there were 5.2 billion mobile phone users worldwide. That means that 85% of the adult population globally has a mobile phone and for many it will be their only device (as in the developing world there are many less instances of multi-device households).
Establishing that such a large percentage of the global population is habituated to smartphone technology and understanding the capabilities of these sensor rich devices means that mobile phones are the primary channel for engaging patients. Not only are they accessible, but the software is scalable and the data accrual and retention capabilities are transformative. Whether you need a patient to complete a basic wellbeing task like making an appointment, all the way through to much more complicated engagements with complimentary software that speaks to medical devices, devices that we carry around on 365 days a year are opening the door to habitual engagement with care.
Revolutionising patient experience
If you have ever needed surgery and post-op support, you will know intimately the unnerving feeling of handing your wellbeing over to a range of healthcare professionals that you have never had any contact with. 
Let's take an example patient experience and talk about how our mobile devices can create a new and better experience for patients.
You find out that you have a problem with your knee which will require surgery, you are told that you will join a waiting list and undergo scheduled surgery in the months to come.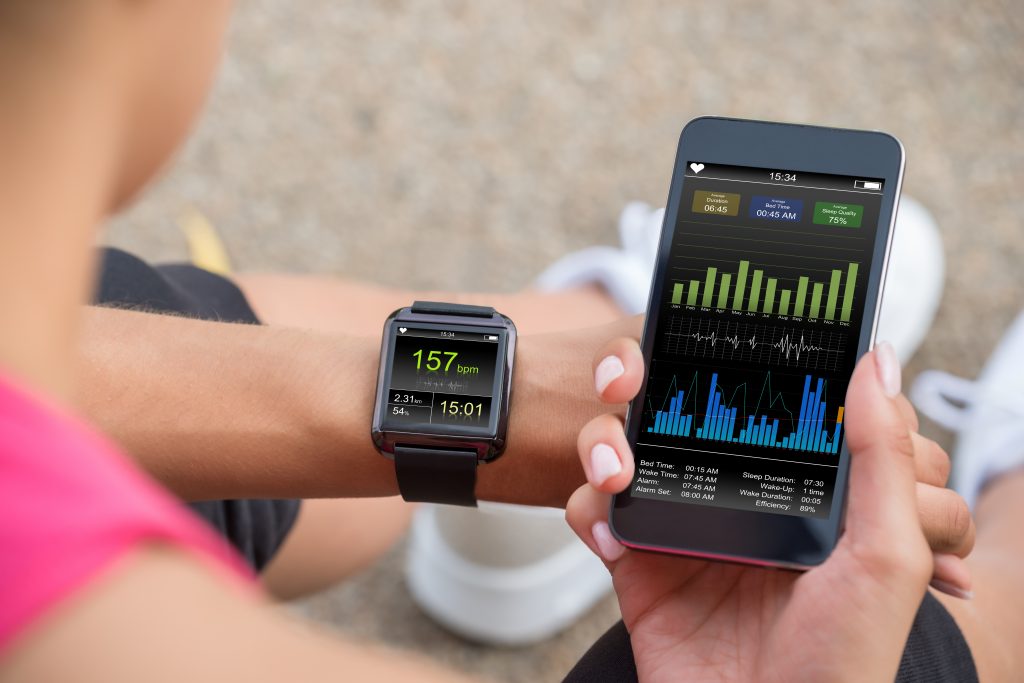 The pre-operative experience
At the moment that you are told about your impending surgery, imagine that you were asked to download a mobile application and pair it to your activity tracker on your wrist.
In the 45 day period prior to your surgery, you transmit data about your activity level, resting heart rate, sleep and other well-being factors to a central system that can be reviewed and monitored by your surgeon or healthcare professional.
The app prompts you through a gamified interface to engage with content about the surgery you are going to undergo, that increases your understanding of the surgery and the efficacy of the procedure.
A range of tasks and objectives prompt the patient to be surgery ready and provide baseline data that can be utilised to measure progress against in the post-operative period.
The post-operative experience
During the initial post-operative experience, the patient can interface with their surgeon and carers via mobile video conferencing built into the app. This can be scheduled by the patient choosing from available slots or by the healthcare professional suggesting times via instant message.
As the days pass, the patient is prompted to start their rehabilitation regime via push notification aligned with in-app video content that ensures that they are adhering to the safest form. 
The days turn into weeks and the care team ok the patient to start exercising and encourage the patient to monitor their activity via their devices to ensure that they are not overdoing it, and breaking certain thresholds.
As they regain much of the pre-operative movement and abilities, the mobile app starts to collate information via short gamified questionnaires and small, short, action oriented tasks.
As the patient closes out their recovery, they again see their healthcare professionals via video conference call, who reflect on their pre and post op data to showcase progress and improvement.
More engagement, less resource, better outcomes
The last two paragraphs illustrate how, in a journey back to wellness, a patient may be supported by their mobile devices and related technologies by:
By utilising mobile devices, healthcare providers and their partners can increase the efficacy of their recommendations and support, collect and monitor objective and subjective data that they previously would not have had access to and increase the efficiency and scalability of their care, to ensure the best possible outcome for patients.
What's not to like!
—
At Waracle, we collaborate to create mobile products and services that make life better. Whether it is through patient engagement, therapeutics, diagnostics, connected health or software-as-a-medical-device.
Our passionate technologists are waiting to hear from you, get in touch today!